Wales, Germany & Spain ensure European Domination at World Teams
Notable triumphs by Wales, Germany and Spain in today's knockout stage of the WSF Men's World Team Squash Championship in Washington DC have ensured that six European teams will line up in the quarter-finals of the biennial World Squash Federation event for the first time in its 52-year history.
23 nations are competing in the 26th edition of the championships, hosted by US Squash, at Squash On Fire, the new state-of-the-art eight-court facility in the US capital.
Wales, the 11th seeds led by British No.1 Joel Makin, stormed into the last eight for the first time since 2005, after upsetting Hong Kong, the sixth seeds who were semi-finalists in 2017.
Third string Emyr Evans was first on court to face Hong Kong's Henry Leung, a 24-year-old ranked more than 30 places higher. After taking the opening game, Evans squandered game balls in the second to let Leung draw level, before the Hong Kong player took the third to move ahead.
But, with vociferous support from the Welsh camp surrounding the all-glass showcourt, Evans fought back to draw level before again coming from behind in the decider to win 11-8, 11-13, 12-14, 11-7, 11-7 after 87 minutes.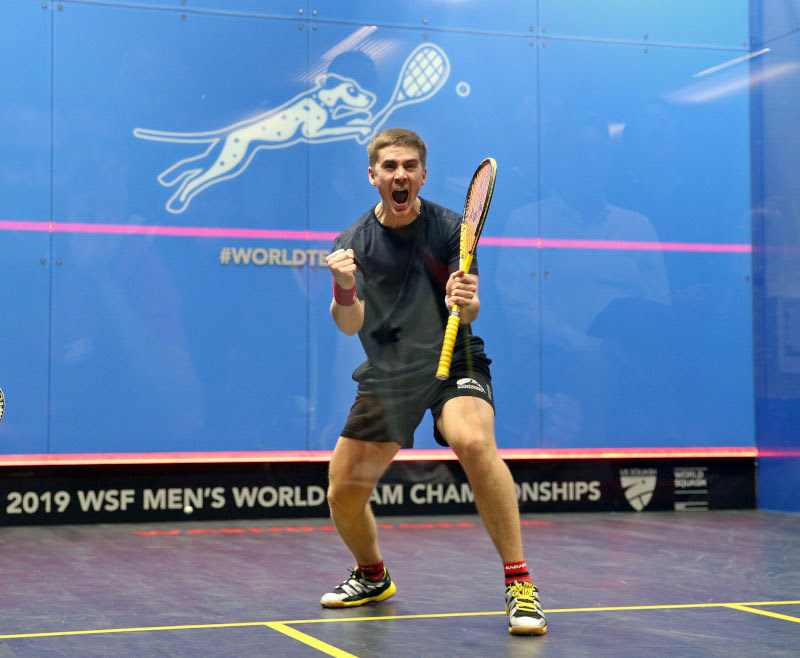 Evans punched the air with delight (see above) after putting underdogs Wales ahead.
Top string Joel Makin needed 46 minutes to seal the top eight finish for Wales, beating Hong Kong's Leo Au 13-11, 11-4, 11-8 to close out the tie and earn a clash with British rivals Scotland.
"That was massive for us," said Makin later. "Emyr put in a massive shift for us in the first match, he was 7-3 down in the fifth and he really put a big effort in, that was needed and I felt a lot better today. Leo mixes the height so well and he's so tricky around the front, so I had to be disciplined and get on top of him quickly, so I'm glad to win that.
"Emyr is good at winning those kind of matches, I warmed up a few times but we're just really glad to get through.
"Scotland had a rest day today, so they're going to be fresher, but we have played against each other a lot of times and it has been tight, so I think we have a good chance."
Welsh coach David Evans added: "Getting into the top eight is huge for us. They're a young team as well and Joel is doing really well on PSA.
"Emyr had a game ball to go two-love up and that could have been it – but before long he was 2/1 down. To be honest, how he won it, I don't know – it was nothing to do with any coaching, just his grit and determination. He was 6-3 down in the fifth as well – then won it 11-7!
"They're all passionate boys.
"Joel's had a great season – and to be British number one rounds it all off."
Germany were the first nation to claim a place in the last eight from the play-offs. Originally the event's fourth seeds, Germany were relegated to the fifth position on the eve of the event – then suffered a shock Pool E defeat to eighth seeds Spain which resulted in a less favourable position in the play-off stage.
The team, led by world No.6 Simon Rösner and eager to improve on their ninth place finish two years ago, faced Malaysia, the 10th seeds who were runners-up in Pool C.
Third string Valentin Rapp put Germany firmly into the lead with an 11-7, 11-9, 12-10 victory over higher-ranked Malaysian Mohd Syafiq Kamal. The top string clash that followed was the first meeting between the experienced Rösner and rapidly-improving young Malaysian Eain Yow Ng.
Yow came into the match with several notable scalps to his name over the previous three days – but met his match in the German No.1 who marched through to an 11-7, 11-6, 11-5 win in 40 minutes which put his country back into the top world eight.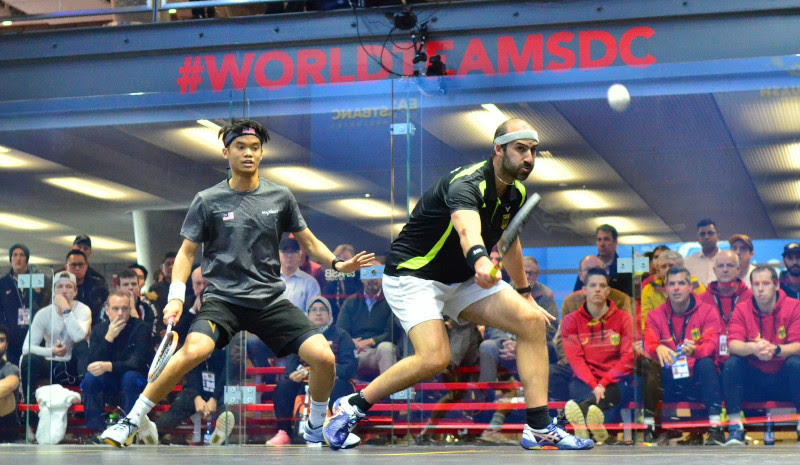 "I'm feeling great," said Rösner (pictured above in action with Yow) as he came off court. "After losing to Spain, I think we had to change something so I'm glad that the team did well today. Raphi didn't have to play today and I'm really glad we won.
"It's big to take that first match and a completely different story if you're up 1/0. I tried to relax, even though it was a bit edgy at times and he (Eain) has had some amazing results recently. It worked out in the end and we are through to the quarters.
"We are up against Egypt next which is going to be quite tough. It's promising and maybe we can do some damage to Egypt."
German coach Oliver Pettke added: "As you say, we didn't have the best start – we had a couple of things that didn't go well for us but now I am absolutely happy.
"Valentin and Simon were really on fire today. We knew this was going to be a tough one, but from the beginning we were ready, we were confident enough.
"The last time (in 2017) we were aiming to get to the quarters, but after the first match, Rafael (Kandra) was ill for the whole week – so that was the problem last time, and this time we had the problem with Rudi (an ankle injury) in the second game against Spain. This wasn't good for the team spirit, but we managed to turn it round. And Simon wasn't well the day we arrived and this lasted for two days."
On the upcoming tie with event favourites and defending champions Egypt, Pettke said: "It's a quarter-final and we will try our best. You can't get to the quarter-final and give it away! Of course, the pressure is not on us, it will be on them – though I'm sure they will be able to handle it!"
Spain became the sixth European team to make the last eight after beating 15th seeds Switzerland 2/0. Despite being seeded eighth, Spain had never before finished higher than 11th.
But after Carlos Cornes put the team ahead with an 11-6, 9-11, 11-8, 11-2 win over Swiss No.3 Cédric Kuchen, long-time Spanish number one Borja Golan twice came from behind to defeat Dimitri Steinmann 7-11, 11-6, 10-12, 11-6, 11-2 to lead the team into the quarter-finals for the first time.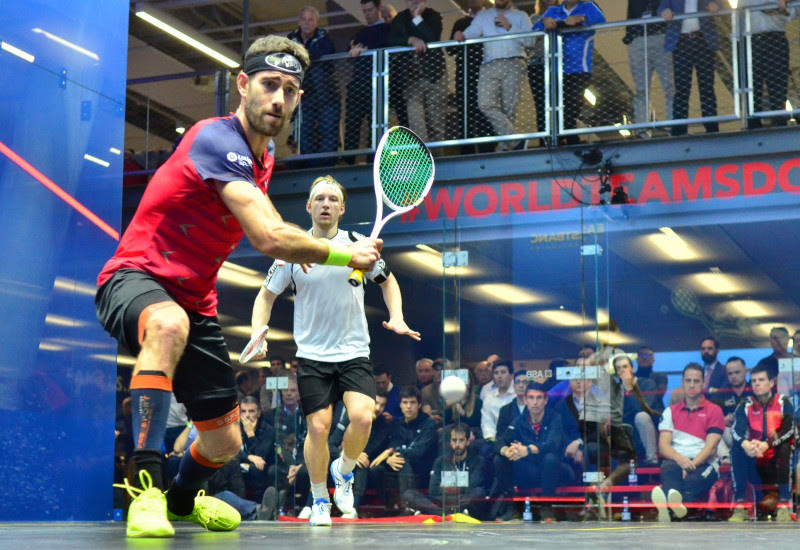 "It's really good to lead this group because they are really professional," said Golan (pictured above in action with Steinmann). "They are young but I learn a lot from them. The main thing is that we are a good group and support each other and when you get to play events like this in squash it is really special. We are in a good club and we are all enjoying the squash.
"We need to rest a little bit now and focus on our recovery, mentally these matches are tough and it's a long tournament, so we just need to enjoy this victory and then focus on tomorrow where we will give everything."
Spain progress to face France for a place in the semi-finals. Coach Jonas Gornerup was thrilled with his team's performance: "I am extremely happy.
"Last night we went through all the finishing positions we've achieved for the last 20 years and the only decent one was 11.
"Obviously, France won't be an easy one but tomorrow we have no pressure. We're going to go flat out and they'd better play their normal standard or otherwise we'll take them!"
On an adjacent court, a mighty battle took place between Trans Tasman rivals New Zealand and Australia for the final slot in the last eight.
The tie went the full distance before New Zealand emerged triumphant, consigning Australia to a finish outside the top eight for the first time in the history of the championships.
After Kiwi Evan Williams lost to Aussie Rex Hedrick, the team's No.1 Paul Coll fought back to beat Ryan Cuskelly 3/0. The decider went to four games, New Zealander Campbell Grayson finally prevailing 11-9, 11-6, 7-11, 11-9 over seasoned Australian campaigner Cameron Pilley.
"It was unfortunate we lost to Scotland in the Pool and had to come up against Australia in the playoffs for the quarter-finals," explained NZ coach Glen Wilson. "It was always going to be a battle – it was another typical Australian/New Zealand battle.
"I was expecting it to be on the showcourt but an Australia/New Zealand match clearly doesn't mean much in Washington DC!
"At 37, Cameron was playing great squash and making Campbell work hard for every point. I thought Cameron was getting on top of him but Campbell stuck to his game-plan. I was just happy to get the win."
In the play-offs for the lower places, 16th seeds Argentina beat Nigeria 2/0 to set up a clash with Colombia, while 19th seeds South Africa will take on Ireland after beating Republic of Korea 2/0.
But pride of place went to Jamaica, the 17th seeds who fought back from a match down to beat Singapore, the 20th seeds, to guarantee themselves a top 20 finish for the first time.
Brandon Tan put Singapore ahead with a straight games win over Tahjia Lumley before team number one Christopher Binnie, the record nine-time Jamaican champion, beat Samuel Kang (both pictured above) to level the tie. After two tie-break games in the decider, it was second string Lewis Walters who clinched victory for Jamaica by beating Chua Man Tong 12-10, 12-10, 11-3.
"For Jamaica this is very significant," said team manager Douglas Beckford. "We made our first attempt in Marseille two years ago and ended up outside the top 20.
"This win today guarantees us a top 20 finish which will be an extremely good achievement for a small nation like Jamaica. In squash circles in Jamaica this will be very well received. The effort we put in to get here has been worth it.
"Jamaica only has maybe 250 to 300 squash players in total, so to come to a prestigious tournament like this and achieve a top 20 finish is excellent.
"We continue to be very proud of Chris – at the moment he's the only world-ranked player we have. Lewis used to be a ranked player but is not full-time now. Those two players are a cut above the rest of us in Jamaica. We're very happy with the way Chris and Lewis have played and we hope they perform again tomorrow and Friday – it's not over yet!"